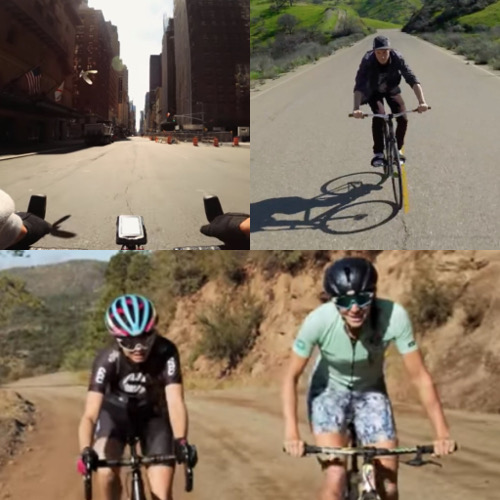 The current outbreak going around the world right now has caused some cities, if not all, to a mandatory stay at home lockdown. Which means going out for essential items ONLY. You are able to ride or walk around solo for a short periods of time. This is not the time to push your limits of course. Leave the KOMs for the future.
*NOTE* Please check your local laws in your city for outside time. Since every city, county, state can be different.
With that said, if you're at home wanting to watch something cool, here is a short list of bicycle related videos you can watch while enjoying a nice hot cup of coco. These are not ranked in any particular order, this is just some of MY personal favorite movies, videos, channels to watch. Click on the Titles in blue for the direct link to the videos/Channels Here we go!
1. Terry Barentsen – Hot line
Terry has a Youtube channel and has a lot of nice videos of him following other riders(POV Style) in NY and other parts of the world. His latest video titled "Your Soul is Priceless" shows NYC in the current state. Seeing Time Square empty during this time is pretty eerie.
2. State Bicycle Co. – Riding Fixed, Up Mountains With Pros
State Bicycle Co. has team riders giving interviews with pro cyclists. Their funny questions and great cinematography, especially when descending down these mountains, makes for great entertaining videos.
3. MASH SF
The guys in San Fransisco have been making shorts for a years now. Most of the videos are the guys riding around the streets of SF and YES, some of them go up those gnarly hills.
The world famous Red Hook Crit start off in the streets of Red Hook, NY and grew into a world wide race. Sadly the race is no more but there's tons of old races on Youtube. In this link, you can see the women and mens race from 2016.
5. Lucas Brunelle –Line of Sight
This is one of the BEST documentaries out there that shows the life of alleycat races. Riders race to multiple check points in a city and who ever does it the fastest win. Very nerve-racking at some points but crazy to watch. Road Sage is another short from Lucas that is wroth watching.
Leave a comment below. Which are your favorite movies, videos, channels, etc. Help each other out with fun material to enjoy.